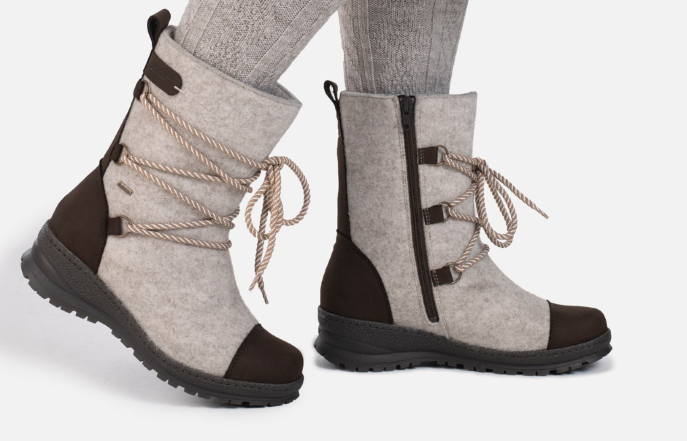 Introducing POMAR FINLAND - GORETEX BOOTS MADE IN EUROPE // Nous vous présentons POMAR FINLAND - GORETEX BOOTS MADE IN EUROPE
Papillon International proudly introduces Pomar Finland, a new brand in waterproof boots with a remarkable heritage dating back to 1960. These European-crafted boots incorporate cutting-edge Gore-Tex technology to deliver unparalleled waterproofing and breathability, ensuring your feet stay dry and comfortable in any weather.
A Rich Legacy Since 1960
Pomar Finland's legacy of craftsmanship spans over six decades, establishing them as experts in waterproof footwear. Their enduring commitment to quality is a testament to their dedication to excellence.
 European Craftsmanship for Superior Quality
Each Pomar Finland boot is meticulously crafted in Europe, where skilled artisans pay meticulous attention to detail. The choice of materials further elevates their performance and durability.
Gore-Tex Innovation for Ultimate Protection
Pomar Finland's boots feature state-of-the-art Gore-Tex membranes, guaranteeing top-tier waterproofing and breathability. These boots are your go-to choice for staying dry and comfortable in wet conditions.
Style Meets Functionality
Pomar Finland understands the importance of style. Their boots are designed with a fashionable flair, ensuring they complement any outfit while keeping you dry and comfortable.
 Elevate your footwear game and tackle any weather with confidence by exploring Pomar Finland's collection today.
- - -
Papillon International est fier de présenter Pomar Finland, une nouvelle marque de bottes imperméables dont l'héritage remarquable remonte à 1960. Ces bottes de fabrication européenne intègrent la technologie de pointe Gore-Tex pour offrir une imperméabilité et une respirabilité inégalées, garantissant que vos pieds restent au sec et à l'aise par tous les temps.

Un riche héritage depuis 1960
L'héritage artisanal de Pomar Finland s'étend sur plus de six décennies, faisant d'eux des experts en matière de chaussures imperméables. Leur engagement durable en faveur de la qualité témoigne de leur volonté d'atteindre l'excellence.

Un savoir-faire européen pour une qualité supérieure
Chaque botte Pomar Finland est méticuleusement fabriquée en Europe, où des artisans qualifiés accordent une attention toute particulière aux détails. Le choix des matériaux améliore encore leurs performances et leur durabilité.

Innovation Gore-Tex pour une protection ultime
Les bottes Pomar Finland sont dotées de membranes Gore-Tex de pointe, garantissant une imperméabilité et une respirabilité de premier ordre. Ces bottes sont votre meilleur choix pour rester au sec et à l'aise dans des conditions humides.

Le style rencontre la fonctionnalité
Pomar Finland comprend l'importance du style. Ses bottes sont conçues pour s'intégrer à n'importe quelle tenue tout en vous gardant au sec et à l'aise.

Améliorez votre jeu de chaussures et affrontez n'importe quel temps avec confiance en explorant la collection de Pomar Finland dès aujourd'hui.