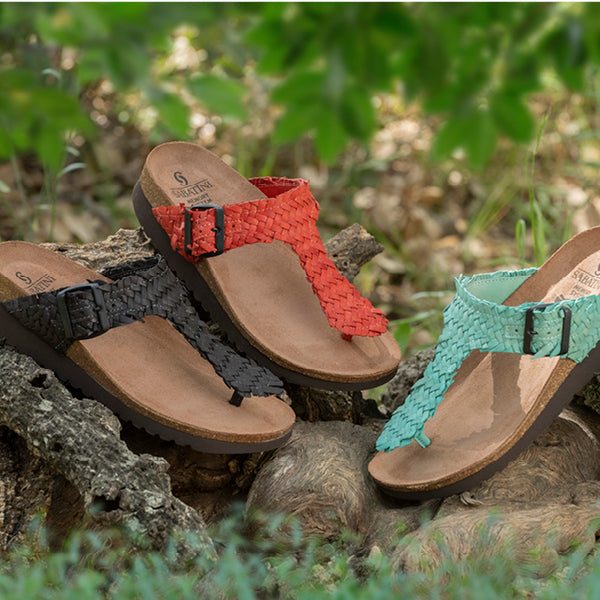 Introducing Sabatini Italy! // Présentation de Sabatini Italie !
Established in 1896 by Italian shoemaker Giovanni Sabatini, Sabatini Shoes has become a symbol of refined craftsmanship and timeless style. With over a century of heritage, Sabatini Shoes embodies luxury and elegance in every step.
Giovanni Sabatini's passion for creating exceptional shoes led to early success. By blending traditional Italian techniques with innovative designs, Sabatini Shoes gained recognition for its superior craftsmanship across Europe.
Just as Umbria's forests provide the finest timber, and its vineyards produce world-class wines, Sabatini Shoes sources the highest quality materials from the region. Luxurious leathers, supple suedes, and exquisite fabrics are carefully selected to ensure unparalleled comfort and durability, enhancing the overall allure of each pair. Today, they are well recognized for their European sourced quality cork soles which mold ergonomically to your foot.
As Sabatini Shoes enters its 11th decade, Giovanni Sabatini's legacy lives on. Expert craftsmen combine tradition, innovation, and the finest materials to maintain the brand's luxury status
Delve into the Sabatini manufacturing process here: https://www.youtube.com/watch?v=piRJ9CRy8IY 
- - -
Fondée en 1896 par le cordonnier italien Giovanni Sabatini, la marque Sabatini Shoes est devenue le symbole d'un savoir-faire raffiné et d'un style intemporel. Avec plus d'un siècle d'héritage, les chaussures Sabatini incarnent le luxe et l'élégance à chaque pas.

La passion de Giovanni Sabatini pour la création de chaussures exceptionnelles a conduit à un succès rapide. En associant des techniques italiennes traditionnelles à des modèles innovants, les chaussures Sabatini ont été reconnues pour leur savoir-faire supérieur dans toute l'Europe.

Tout comme les forêts de l'Ombrie fournissent le bois le plus fin et ses vignobles produisent des vins de classe mondiale, Sabatini Shoes s'approvisionne en matériaux de la plus haute qualité dans la région. Des cuirs luxueux, des suédines souples et des tissus exquis sont soigneusement sélectionnés pour garantir un confort et une durabilité inégalés et rehausser l'allure générale de chaque paire. Aujourd'hui, les chaussures Sabatini sont reconnues pour leurs semelles en liège de qualité d'origine européenne, qui s'adaptent de manière ergonomique à votre pied.

Alors que Sabatini Shoes entre dans sa onzième décennie, l'héritage de Giovanni Sabatini se perpétue. Des artisans experts combinent tradition, innovation et matériaux de qualité supérieure pour maintenir le statut de luxe de la marque.
Découvrez le processus de fabrication de Sabatini en cliquant sur le lien suivant : https://www.youtube.com/watch?v=piRJ9CRy8IY