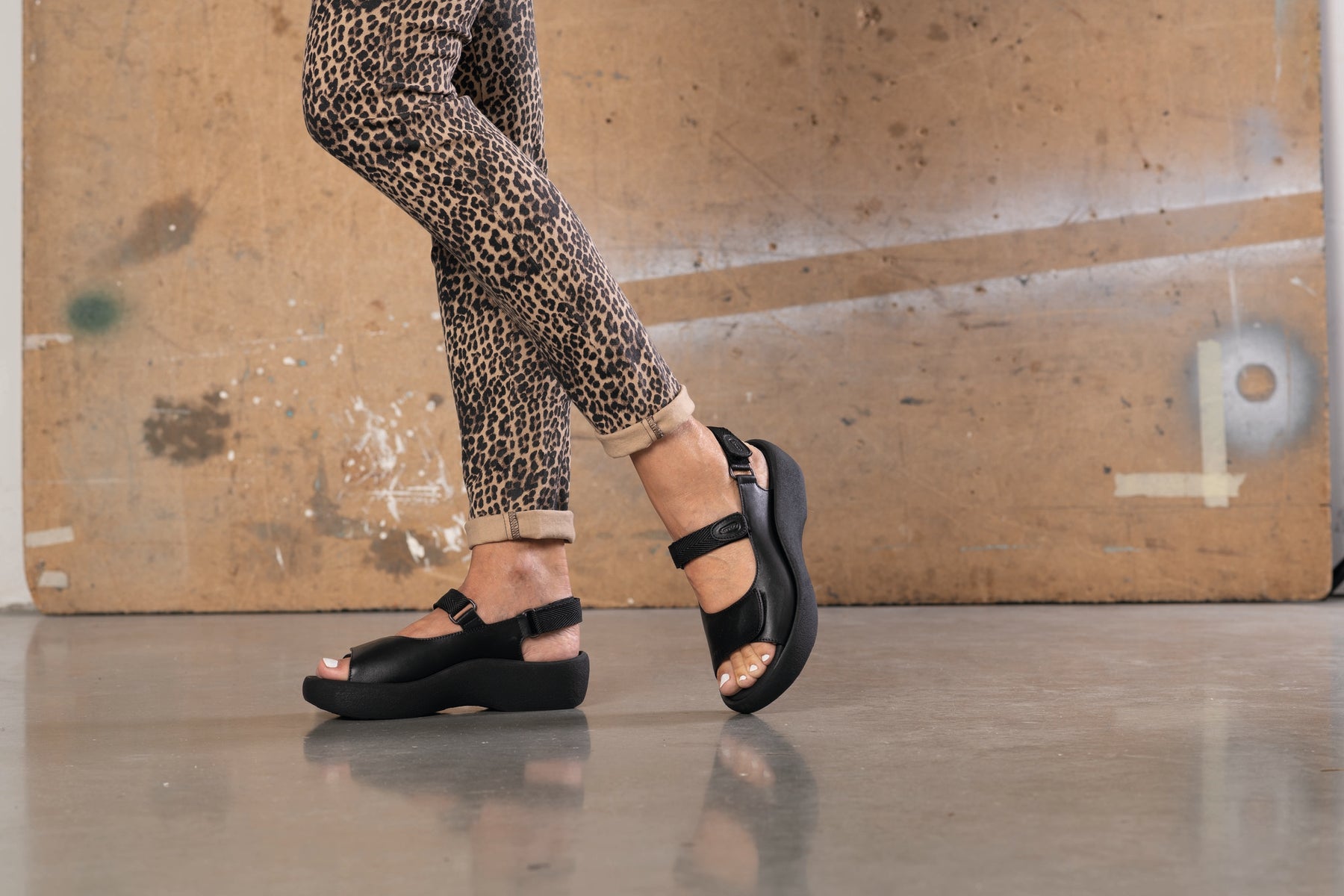 Introducing the Wolky JEWEL ! Voici le Wolky JEWEL !
Papillon International presents Wolky's most popular shoe – the Jewel (#3204). The Wolky Jewel is a staple in so many Spring & Summer wardrobes. This beautiful sandal is offered in an array of colors and exciting patterns to match one's attire any day of the week – one of the many reasons to own multiple colors! What makes the Jewel however is the multitude of comfort features that customers have appreciated for so many years.
Certified and inspected by the American Podiatric Medical Association (APMA) for fit and footwear engineering, the sandal's comfort starts at the base. The outsole used provides stability and reduces impact with every stride, thus reducing muscle fatigue in one's feet and legs. The leather covered cork footbeds, which are removable, shape to your foot with wear providing a custom and most comfortable fit.
The upper is fully adjustable, with three Velcro straps. This severely decreases the chance of erosion while providing security with every stride.
Papillon International is proud to offer its year-round Jewel stock program in a variety of colors, as well as Jewel footbeds, which are also available for purchase. See below link for more information:
Buy the Wolky Jewel: https://papillonintl.ca/products/wolky-jewel-3204?_pos=2&_sid=db35bf4fe&_ss=r
Buy the Wolky Jewel Footbeds: https://papillonintl.ca/products/wolky-jewel-tulip-insole-32009?_pos=1&_sid=16dd328ae&_ss=r&variant=41293575848107
- - -
Papillon International présente la chaussure la plus populaire de Wolky - la Jewel (#3204). La Jewel de Wolky est un élément de base dans de nombreuses garde-robes de printemps et d'été. Cette magnifique sandale est offerte dans une gamme de couleurs et de motifs excitants pour s'harmoniser avec votre tenue vestimentaire tous les jours de la semaine - une des nombreuses raisons de posséder plusieurs couleurs ! La Jewel se distingue toutefois par la multitude de caractéristiques de confort que les clients apprécient depuis tant d'années.
Certifié et inspecté par l'American Podiatric Medical Association (APMA) pour l'ajustement et l'ingénierie de la chaussure, le confort de la sandale commence à la base. La semelle extérieure utilisée assure la stabilité et réduit l'impact à chaque foulée, réduisant ainsi la fatigue musculaire des pieds et des jambes. Les semelles en liège recouvertes de cuir, qui sont amovibles, s'adaptent à votre pied au fur et à mesure de l'usure, offrant ainsi un ajustement personnalisé et des plus confortables.
La tige est entièrement réglable, grâce à trois bandes velcro. Cela réduit considérablement les risques d'érosion tout en offrant une sécurité à chaque foulée.
Papillon International est fier de proposer toute l'année son programme de stock Jewel dans une variété de couleurs, ainsi que les semelles Jewel, qui sont également disponibles à l'achat. Voir le lien ci-dessous pour plus d'informations :
Acheter le Wolky Jewel : https://papillonintl.ca/products/wolky-jewel-3204?_pos=2&_sid=db35bf4fe&_ss=r  
Achetez les semelles Jewel de Wolky : https://papillonintl.ca/products/wolky-jewel-tulip-insole-32009?_pos=1&_sid=16dd328ae&_ss=r&variant=41293575848107