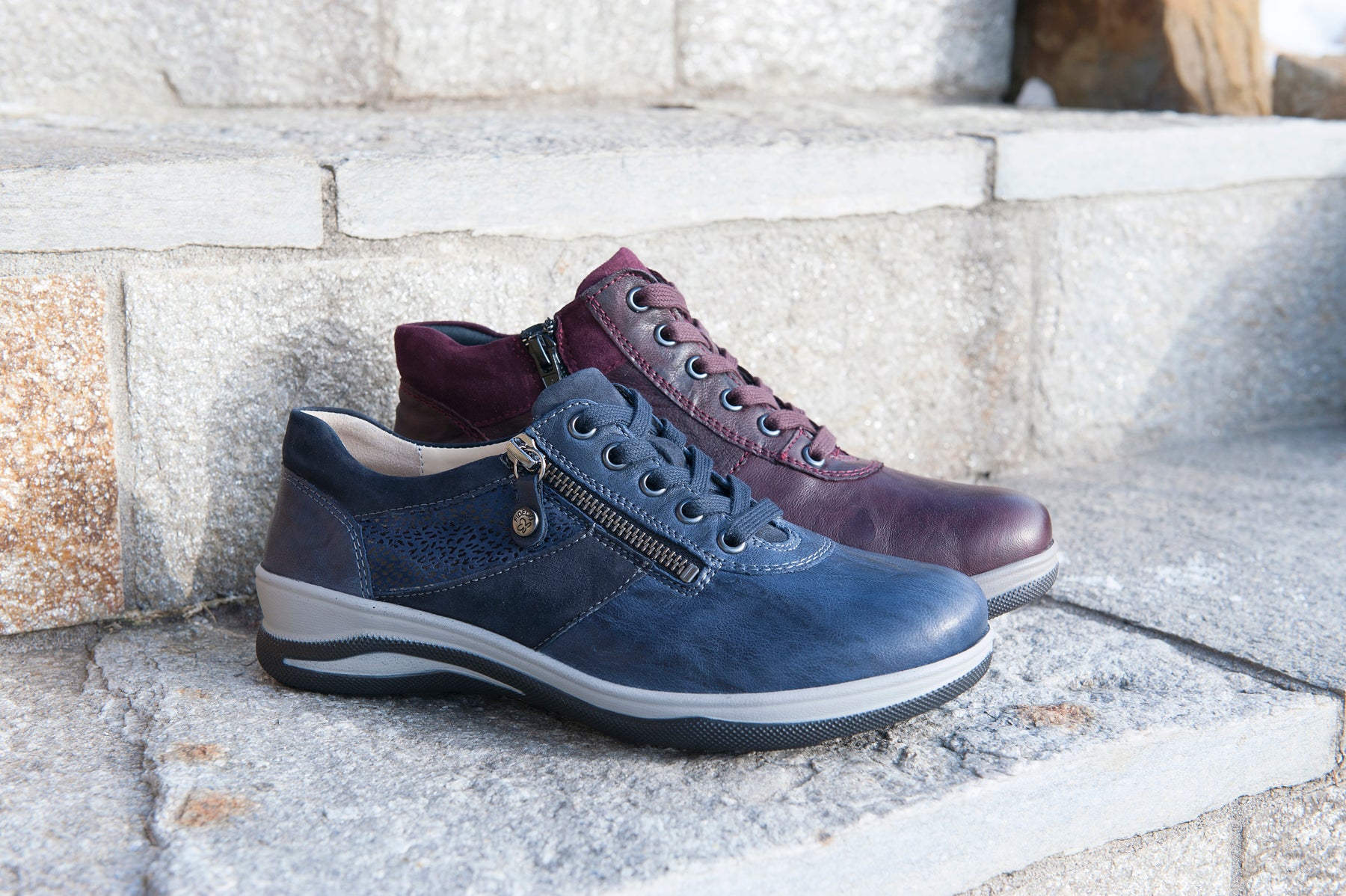 The Most Perfect Fitting Fidelio Shoe! La chaussure Fidelio la plus parfaitement ajustée!
Introducing you to the Haley sneaker (style 38 6101)  – the Fidelio brand's most popular shoe! The Haley sneaker is highlighted by several product features which has made it the best-selling shoe in the collection. For decades, the Fidelio brand has built its strong reputation with its European made footwear. Comfort, fit, and long-lasting quality are the roots to every style made by the brand and the Haley sneaker is no exception. See below for just some of the reason our customers continue to love this style!
European sourced genuine leather upper;
Stretch insert on inside forefoot helping ease discomfort caused by bunions (Hallux Valgus);
H Last which equates a Wide fit;
Cork footbed forms to the shape of your foot;
Removeable insole allow for use of orthotics;
The sneaker's Strobel construction allows the utmost flexibility with every stride;
Lining in forefoot (toe box) is seamless and cushioned to further prevent potential irritation to sensitive feet;
Soft calf leather lining;
Functional side zipper for easy entry and removal of shoe.
Such positive feedback from retailers and consumers alike has led Papillon to incorporate the Fidelio Haley sneaker into its' year-round stock programs in three colors: Black (#60), Navy (#59) and Wine (#57).
Shop the Haley (# 386101 H) sneaker today: https://papillonintl.ca/collections/all-product/products/fidelio-38-6101-multistretch
- - -
Nous vous présentons la basket Haley (style 38 6101) - la chaussure la plus populaire de la marque Fidelio ! La basket Haley présente plusieurs caractéristiques qui en font la chaussure la plus vendue de la collection. Depuis des décennies, la marque Fidelio s'est forgée une solide réputation grâce à ses chaussures de fabrication européenne. Le confort, l'ajustement et la qualité durable sont les racines de chaque style fabriqué par la marque et la basket Haley ne fait pas exception. Vous trouverez ci-dessous quelques-unes des raisons pour lesquelles nos clients continuent d'adorer ce modèle !
Tige en cuir véritable d'origine européenne ;
Insert extensible à l'intérieur de l'avant-pied pour soulager l'inconfort causé par les oignons (Hallux Valgus) ;
Largeur H, ce qui équivaut à une forme Large ;
L'assise plantaire en liège épouse la forme de votre pied ;
Semelle intérieure amovible permettant l'utilisation d'orthèses ;
La construction Strobel de la chaussure permet une flexibilité maximale à chaque foulée ;
La doublure de l'avant-pied (boîte à orteils) est sans coutures et rembourrée pour éviter toute irritation potentielle des pieds sensibles;
Doublure en cuir de veau souple ;
Fermeture éclair latérale fonctionnelle pour entrer et sortir facilement de la chaussure.
Les réactions positives des détaillants et des consommateurs ont conduit Papillon à intégrer la basket Fidelio Haley dans son programme de stock annuel en trois couleurs : Noir (#60), Marine (#59) et Vino (#57).
Achetez la basket Haley (# 386101 H) dès aujourd'hui : https://papillonintl.ca/collections/all-product/products/fidelio-38-6101-multistretch